CELNED-Li / Lithium Iron Phosphate
The CELNED-Li systems are designed for 15-year service life and available in capacities from 20AH to 163AH for 26Vdc systems up to 614Vdc. CELNED-Li systems can be connected in parallel to increase capacity when required.
CELNED-Li cell assemblies are fully tested and ready for use. The CELNED 3C controller guaranties safe and reliable operation and excellent performance throughout.
With decades of experience in battery technology, CELNED developed the knowhow to intergrade lithium battery technology into robust and reliable back-up systems to ensure high quality performance for a wide range of applications. The performance is guarded by continues efforts in quality control of manufacturing and assembly processes
The robust CELNED-Li systems are fully field tested and have a proved track record in mission critical operating environments. With integrated CELNED 3C charge controller and battery monitoring solutions CELNED offers the complete system to ensure power availability.
Applications
UPS systems
Transportation systems
Telecommunication
Medical equipment
Emergency lightning
Fire & security equipment
Process industry and control.
Solar- and wind energy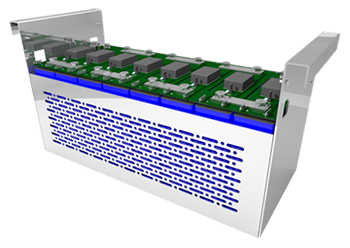 Revolution in Energy Storage
Lithium battery technology is bringing a revolution in the field of energy storage for the years to come. LiFePO4 prismatic cells have outstanding characteristics when compared to any other battery technology.
Safe Operation –
The LifePO4 Cells are safe by design, eliminating the risk of thermal runaways.
Up to 3,500 Cycles at 80% DOD –
5 Times the number of cycles compared to Standard VRLA.
Long Service life –
LifePo4 prismatic cells are designed for 15-year service life, bringing it on par with NiCad battery solutions.
Low cost ownership –
LifePo4 prismatic cells are maintenance free and can over its lifetime store more energy than any battery technology.
CELNED 3C Controller
Designed and manufactured by TECNED BV, the Netherlands, a high-tech company specialized in power conversion, the CELNED 3C charge controller is made specifically with stationary applications in mind and facilitates smooth integration with AC & DC-UPS system.
Voltage Control
The CELNED 3C monitors the charge voltage and automatically stops charging when the optimal cell voltage is reached.
Cell Control
The CELNED 3C controller monitors individual cells for under/over voltage
Current Control
Integrated top-up charging ensures that all cells are charged correctly without unnecessary heat dissipation
The CELNED 3C charge controller is available fully integrated with all TECNED power assemblies. For 3rd party applications, the 3C charge controller is supplied in a wall mount cabinet, complete with LCD and fusing
Standard Solutions
Standard solutions are based on CELNED proven Power-Base concept. Modules are stackable up to 4 high and can be connected in parallel.
Each Power-Base module can hold a maximum capacity of 205Vdc/68AH, which makes it suitable to back-up systems from 10kW to 90kW
Topology : LiFePO Prismatic cells
Nominal Capacity : 68AH
Nominal Voltage : 205Vdc per module
Weight : 145 Kg per module
Impedance : <8mOhm per cell
Cycle Life : Up to 3000 cycles (80% DOD)
Self-Discharge : < 5% per month
Max charge current : 68A (1C)
Max charge voltage : 233.6Vdc
Auto stop charge : 0.02C
Discharge current : 136A (2C)
Pulse Current : 544A for 10 sec
Minimum voltage : 160Vdc
Operating Temp : 0℃~45℃
Standards : ISO 9001/ CE ICR18650, ICR10180, ICR144030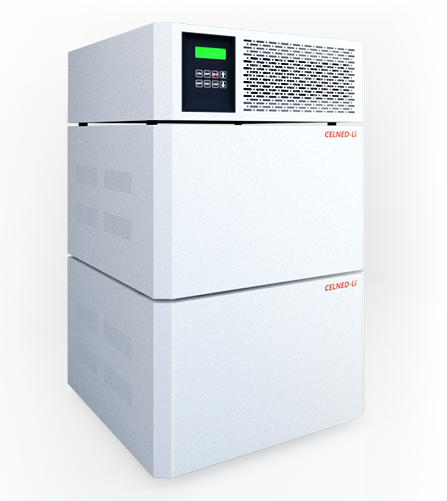 Engineered Solutions
Engineered solutions range from 20AH cells to 163AH LifePO4 cells and can be configured to any customer requirement. Each solution is tailored to fit site conditions, charge voltages and discharge currents and can be connected in parallel to increase capacity.
Topology : LiFePO Prismatic cells
Nominal Capacity : 20AH to 163AH/cell
Nominal Voltage : 3.2V/Cell
Cycle Life : Up to 3500 cycles (80% DOD)
Self-Discharge : < 5% per month
Voltage range : 25.6Vdc to 614.4Vdc
Nominal charge current : 0.5C
Max charge current : 1C
Max charge voltage : 3.65V/cell
Auto stop charge : 0.02C
Discharge current : Up to 2C for 3 min
Peak Current : Up to 3C for 10 sec
Minimum voltage : 2.5V/cell Operating Temp : 0℃~45℃
Standards : ISO 9001/ CE ICR18650, ICR10180, ICR144030